Where and When
Day – Thursday
Time – 3-4pm
Venue – Drama (Room 102)
The Senior Choir is open to all year 10 -14 pupils as well as those in year 8 and 9 who attend Junior choir and would like to join another group. It is not essential to be able to read music or have sung in a choir before but the ability to have some fun at choir rehearsal is vital. We would highly recommend choir to those who study or are considering studying GCSE or A Level Music. We sing a large variety of music from religious, pop, musical and traditional taking us from Africa to America. Please come and join us!
Events during the upcoming year
The school choir got the year stared with their first performance at the annual school presentation evening. Singing alongside a number of solo performers and instrumental ensembles in the pupil entrance hall for the guests as they arrived. During the festive period, we participated in the school Christmas concert and were invited to perform at a local festive community event hosted by Ballyclare Victoria Flute Band in the town hall. We were not put off by the poor weather for these events and received some lovely, welcome comments from the audiences.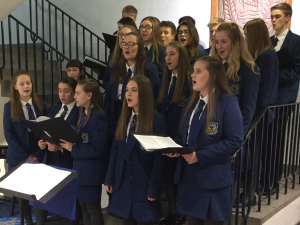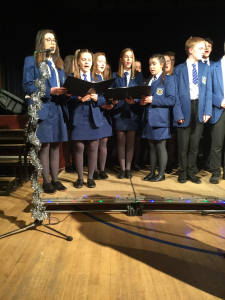 At the end of February, Mrs Bell asked us to sing for the official opening of the new school buildings. It was a huge honour to sing at this event and to show the invited guests a small snapshot of the music we have been singing. Our beautiful harmonies melodies were mentioned by some visitors.
Most recently the choir participated at Ballyclare Music Festival where they gained first place in the Secondary School choir category. Singing two contracting pieces Aya Negena a traditional Zulu folksong and Fix You originally performed by Coldplay. The adjudicator commented on the "terrific impact and well-focused tone… the phrases shaped most sensitively."
Still to come this year for the choir includes the Summer Concert and assembly performances. We are always looking for performance opportunities.
Members