Daniel Hamilton and Zara Davis have been appointed to the positions of Head Boy and Head Girl for 2019-20.  Read below their thoughts on their recent appointments and their plans for the incoming year.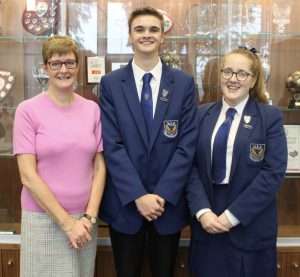 Daniel Hamilton – Head Boy
What was the interview process like and how did you prepare?
On the first week back to school I had the great pleasure and honour of being told I had been selected for interview for Head Boy of Ballyclare Secondary School along with three other boys from my year. On hearing the names of the other candidates I realised that the competition would intense and the decision for the staff would not be easy. Each one of the other candidates had all achieved so much and were all worthy of the role of Head Boy. What delight it was to see three of my friends get chosen for this opportunity and we all congratulated each other. For the interview we were given the title "The Head Boy has a vital role to play in the life of the school". I believe this statement to be both true and very important as the Head Boy has a vital role to play not only in the daily running of Ballyclare Secondary School but as a representative and ambassador at various events and special occasions. I made a short presentation to six members of the senior staff and Mrs Bell about my achievements both in school and externally. The experience was initially daunting but with the warm welcome and encouragement from staff I was able to discuss the role I would play if I was selected as Head Boy.
Why do you think that you were chosen?
I believe I was selected due to the passion and love I have for this school and its pupils and how I conveyed this throughout the interview process. I highlighted how I have worked with many of our pupils through community work and have been involved in mentoring and helping younger pupils in school. I also have been involved in many of the extra-curricular activities offered in school and have fully participated in school life.
What are your roles and responsibilities? 
As Head Boy I have a range of duties and responsibilities from representing the school at the Remembrance Service at the Cenotaph, planning the annual school formal, welcoming parents and visitors to our Open Evening. I also will deliver a speech at the annual School Prize Night along with the Head Girl – now won't that be fun!
What plans do you have for the incoming year?
In this coming year I hope to focus on my A-Level exams which are in May/June to secure the grades required for my chosen courses at university in 2020. However, as Head Boy I am aware that I will have additional responsibilities mainly to support pupils and staff of Ballyclare Secondary School, my way of saying thank you for how much this school has supported me over the years. My hope this year is to support the young people in school and put the school ethos into practice that "Regardless of their intellectual and social background that they will receive a rewarding educational experience". As Head Boy I want young people to see that they are valued and all play a role in this school but even more so that they all have the potential to 'build their own success story' at home, in school and in the community.
Final Thoughts
Ballyclare Secondary School has made me realise that I can achieve my success story and that I can have positive contribution in school and the community. I hope that I can support the pupils of Ballyclare Secondary to reach out and find their potential.
Zara Davis – Head Girl
What was the interview process like and how did you prepare?
After returning from the Summer holidays I received a letter informing me that I would have the opportunity to attend an interview for the position of head girl. The process of this interview included a presentation and filling out an application form. The invitation to the interview alone was such an honour and so I immediately began to plan a presentation that underlined the topic, "The Head Girl has a vital role to play within the life of the school." In preparation for the interview I thought about the skills, qualities and experiences that I have that would benefit me in the role of Head Girl. On top of this I talked about my genuine love and appreciation that I have for the school and stressed what a vital impact it has made on my life, allowing me to become the hard working, determined and passionate person I am today. I prepared my presentation onto flash cards and practiced my delivery multiple times to myself and family members to ensure that my presentation would be smooth and below the 7-minute maximum time limit. The interview took place with Mrs Bell and several other panel members. I was made to feel very welcome and comfortable, allowing me to complete the interview in the best way I could.
 Why do you think you were chosen?
I feel that I was awarded the role of Head Girl because of my contribution and commitment to the life of the school. During my time in Ballyclare Secondary School I have always strived to give my best and try every opportunity that comes my way. I also believe that because of my dedication, confidence and friendliness I was chosen as I would be an example for other members of the school to follow. On top of this my presentation went very well as I highlighted my involvement within the school as I have taken part in school musicals, scripture union, choir, orchestra and public speaking and debating competitions. Furthermore, my strong relationship with both the staff and pupils assisted me in acquiring the role of Head Girl. Lastly, I feel my true passion I have for the school made me a suitable candidate for Head Girl as I want the best for Ballyclare Secondary.
What are your roles and responsibilities?
One of my roles as Head Girl is to, set a high standard of uniform, work ethic and behaviour for other members of the school to look up to and help maintain those standards. On top of this, I need to be there for other members of the school by giving guidance, advice or support. Ballyclare Secondary school is like a family and I should reflect this. Furthermore, I will be a voice for fellow members of the school and help their opinions get heard. Another responsibility I have as Head Girl is to help my senior prefect team in planning the formal. I will also be expected to represent the school at formal events such as Remembrance Day and presentation evening and do so in a way that represents the school in a positive light.
What plans do you have for the incoming year?
This year I plan to stay determined, focused and work hard to achieve the best possible grades I can in my A2 results. On top of this as Head Girl I plan on making a positive impact to Ballyclare Secondary School that will be remembered. Not only do I want to plan the best formal the school has ever had, I also plan on organizing various charity events to help bring the school together. I want to help the voices of the school get heard, allowing the school to become an even better place than it already is. My main goal as Head Girl is to encourage and motivate younger members of the school to endeavor to be the best version of themselves, they can be.
Final thoughts
It is both a privilege and an honour to have been awarded the role of Head Girl for this academic year. I really hope that I do the school proud and I cannot wait to see what exciting things the year ahead will bring!