Aslan Terak and Ruth Minford have been appointed to the positions of Head Boy and Head Girl for 2020-21.  Read below their thoughts on their recent appointments and their plans for the incoming year.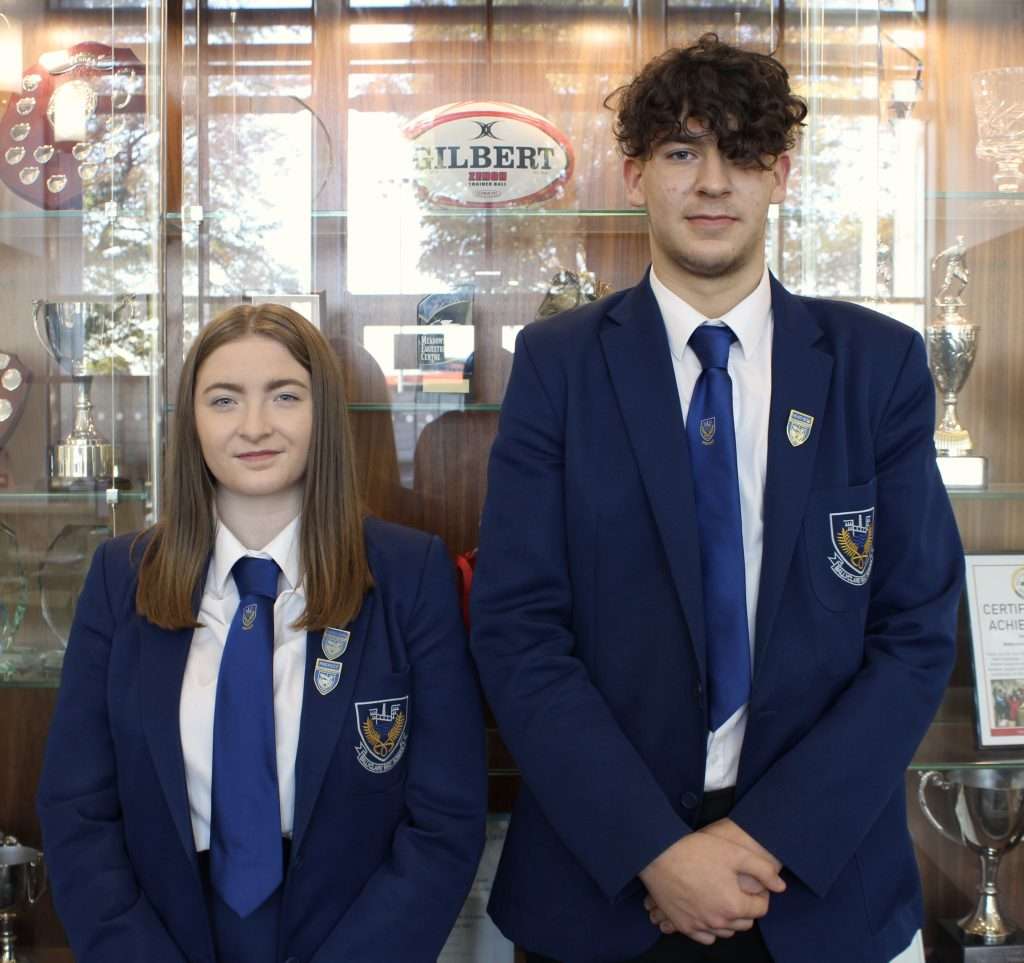 Aslan Terak – Head Boy
What was the interview process like and how did you prepare?
Going into the new school year, I had the privilege and opportunity to be interviewed for the position of Head Boy in Ballyclare Secondary School. When I discovered the names of the other candidates, I realised, that the competition would be enormous and the decision of who would be the Head Boy, would not be an easy one! Individually, all of the other candidates had achieved so much, and were all worthy of the role of Head Boy. What a joy it was to see five of my friends get chosen for this opportunity and applauding each other.
The interview was given the title, "The Head Boy has a vital role to play in the life of school". I believe this statement to be both true and extremely relevant as the Head Boy has a role to play in the daily orchestration of Ballyclare Secondary School. I made a short presentation to three members of senior staff, including Mrs Bell about my achievements both in school and outside of school.
The experience was initially disconcerting, but with the warm welcome and encouragement from staff, I was able to discuss the role I would play if I was selected
Why do you think that you were chosen?
During my interview, I demonstrated to the senior staff my excitement and affection for Ballyclare Secondary School. I enlightened the staff in how I helped with Eco club in school which develops pupils' skills and raises their environmental awareness. I also explained my involvement, in helping to coach young students in basketball, developing their skills. As well as many other extracurricular activities such as rugby, basketball, orchestra and Duke of Edinburgh. This is one of the reasons I believe I was selected to be Head boy.
What are your roles and responsibilities? 
The role of Head boy, carries with it, many responsibilities. Such as helping with the production of our Virtual Open Evening Video. I also welcome pupils in through our entrance in the morning, as part of Covid 19 protocols, making sure they wear their masks and sanitize their hands. Ensuring at lunch times that they followed the one-way system.
As well as helping in the organisation of events for pupils in our school with my fellow senior prefects. Head Boy requires you to deliver a speech as well at some point along with the head girl – which sounds exciting!
This year has been a strange one with many of the regular events being effected due to the social distancing regulations associated with the covid pandemic.
What plans do you have for the incoming year?
As Head Boy I am aware that I will have additional responsibilities mainly to support pupils and staff of Ballyclare Secondary School. I see this as my way of saying thank you for how much this school has supported me over the years. My hope this year is to support the young people in school and put the school ethos into practice that "Every child, regardless of intellectual or social background, should have a rewarding educational experience".
As Head Boy, I want young people to see that they are valued and all play a role in this school but even more so that they all have the potential to 'build their own success story' at home, in school and in the community.
In this coming year I had hoped to focus on my A-Level exams which were due in May/June to secure the grades required for my chosen courses at university in 2021. However, due to the current Covid-19 Pandemic all exams have been cancelled.  This has disappointed me; I hope I have done enough schoolwork to secure my grades.
Final Thoughts 
Ballyclare Secondary School has made me realise that I could achieve more than I thought I could.   With the support of the great teachers, it will be possible for every student who attends here, to have a joyful and educational experience. The Teachers were always there to support and coach me along each year and I have them to thank for my successful outcome.
Ruth Minford – Head Girl
What was the interview process like and how did you prepare?
After settling into the new way of school life after the summer holidays I was delighted to hear I had been selected for an interview for the role of Head Girl, which was a great honour and achievement. Myself and five other girls from my year were selected to go through the interview process, which involved planning and presenting a PowerPoint. I was honoured to have been selected by my fellow pupils and teachers, though the other candidates were all worthy of Head Girl so I knew the competition would be fierce. The interview presentation was titled 'The Head Girl has a vital role to play in the life of the school'. The presentation lasted between five to seven minutes and took place with Mrs Bell, Miss Collins and Mr McGuigan. I was made to feel warmly welcomed and comfortable with the staff being very encouraging, which allowed me present my presentation to the best of my ability.
 Why do you think you were chosen?
I feel I was chosen to be Head Girl due to my contribution and commitment to the life of school. I have always strived to give my best throughout my time at Ballyclare Secondary School and have been involved in a range of extra-curricular activities including; choir, orchestra and Duke of Edinburgh. I have worked with many of our pupils through helping the younger pupils in school and organising charity work including, a year 8 digital detox to raise money for Concern Worldwide. I have fully participated in school life and have strong relationships with both staff and pupils, which I feel made me successful in being appointed Head Girl.
What are your roles and responsibilities?
As Head Girl this year my roles and responsibilities are different due to Covid 19. As Head Girl I have the responsibility to represent our school. A role of Head Girl is to be a positive role model for younger pupils to look up to and follow through setting a high standard of behaviour, work ethic and uniform. I have the responsibility to work with the Head Boy and senior prefect team to organise and assist in school events including the schools virtual open night. Another role of Head Girl is to welcome pupils into school and encourage all pupils to sanitise their hands and follow the school's Covid 19 procedures.
What plans do you have for the incoming year?
This year I plan to focus on my A levels so I can achieve the best possible grades to secure my place at university where I hope to study a degree in either business studies or business management, with my future job being down the lines of managing a business. However, as Head Girl this year I will support fellow pupils and staff allowing them to "build their own success story" which Ballyclare Secondary School has supported me to do.