Adam Hamilton and Sarah Halligan have been appointed to the positions of Head Boy and Head Girl for 2021-22. Read below their thoughts on their recent appointments and their plans for the incoming year.
Adam Hamilton – Head Boy
How did you feel about the selection process?
This year the selection process was different due to Covid, but overall, the process was effective with fellow students voting along with staff. Having no interview certainly took away pressure from the process. I am pleased to be working alongside a team of senior prefects who are talented and enthusiastic.
Why do you think that you were chosen?
Throughout my time in Ballyclare Secondary school I have demonstrated my commitment to the school by always getting involved. I have been involved in various extra-curricular activities which have helped me build the skills to take on the role of head boy. I have been able to develop leadership skills in my role on the Scripture Union committee where I have had the opportunity to take assemblies. I have also been involved in orchestra, choir and drama club. These activities have helped me develop skills and the ability to take on this role. I also was on the student forum for two years in a row where I was able to represent students within my year group. I also have represented the students within my school on organisations such as the Secondary Students Union of Northern Ireland where I have had the opportunity to speak to the education committee at Stormont on issues that affect students. My work within the community and school is why I believe I was selected to be Head Boy.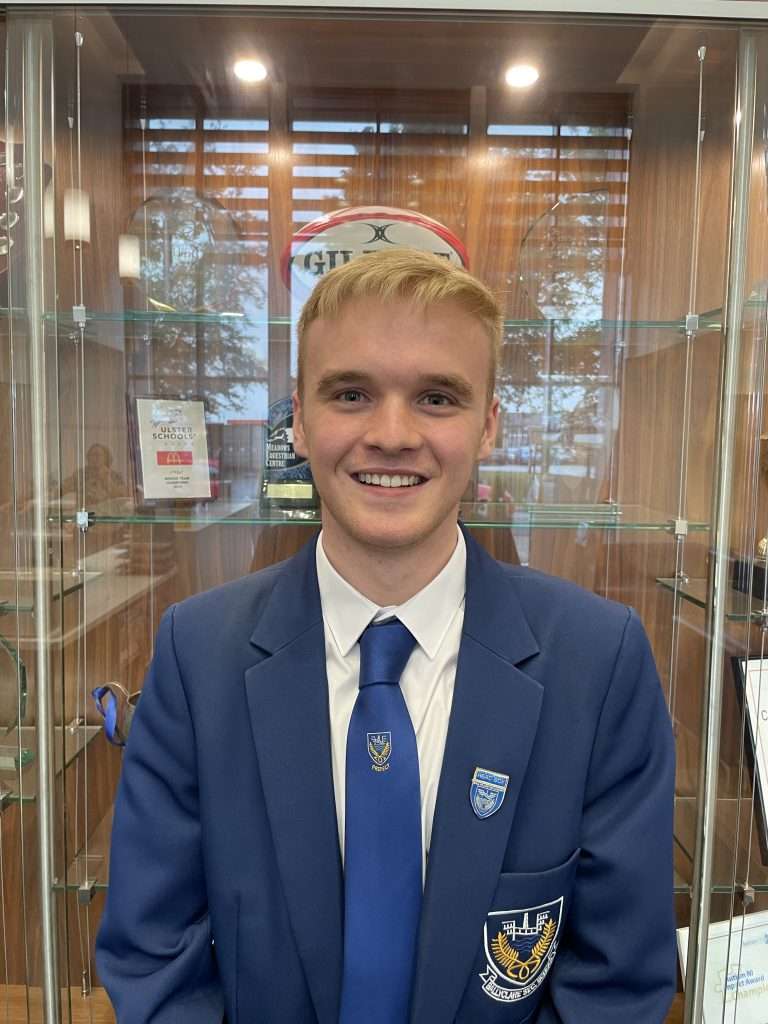 What are your roles and responsibilities?
The role of Head Boy carries with it, many responsibilities. I represent the school in the local community where I will attend events such as Remembrance Sunday in Ballyclare. Within school I welcome pupils in through our entrance in the morning, making sure they wear their masks and sanitize their hands and follow the one-way system. I also have a role in events such as open night and presentation afternoon. In addition, I will be planning for the school formal along with the Head Girl. This year many of the regular events have been affected due to the social distancing regulations associated with the Covid pandemic, but I am determined to enjoy my role and the events that can be held.
What plans do you have for the incoming year?
As Head Boy I am aware that I will have additional responsibilities mainly to support pupils and staff of Ballyclare Secondary School. My hope this year is to support the young people in school and put the school ethos into practice that "Every child, regardless of intellectual or social background, should have a rewarding educational experience". As Head Boy, I want young people to see that they are valued and all play a role in this school but even more so that they all have the potential to 'build their own success story' at home, in school and in the community. In this coming year I also hope to focus on my A-Level exams which are due in May/June to secure grades required for my chosen course at university in 2022. I am excited by this role and count it a great privilege to have been selected.
Sarah Halligan – Head Girl
How did you feel about the selection process?
Coming back to the new school year, I had the privilege to be selected as 1 of 5 girls for the chance of becoming Head Girl. However, due to Covid-19, the interview process didn't occur this year. Instead I was selected via a vote from our teachers and peers and our past school reports.
Why do you think you were chosen?
I believe that I was successful due to my involvement in school activities through the music department; with orchestra, flute group and choir. Through these activities, I have been able to develop leadership and time management skills to get things done within the time frames given.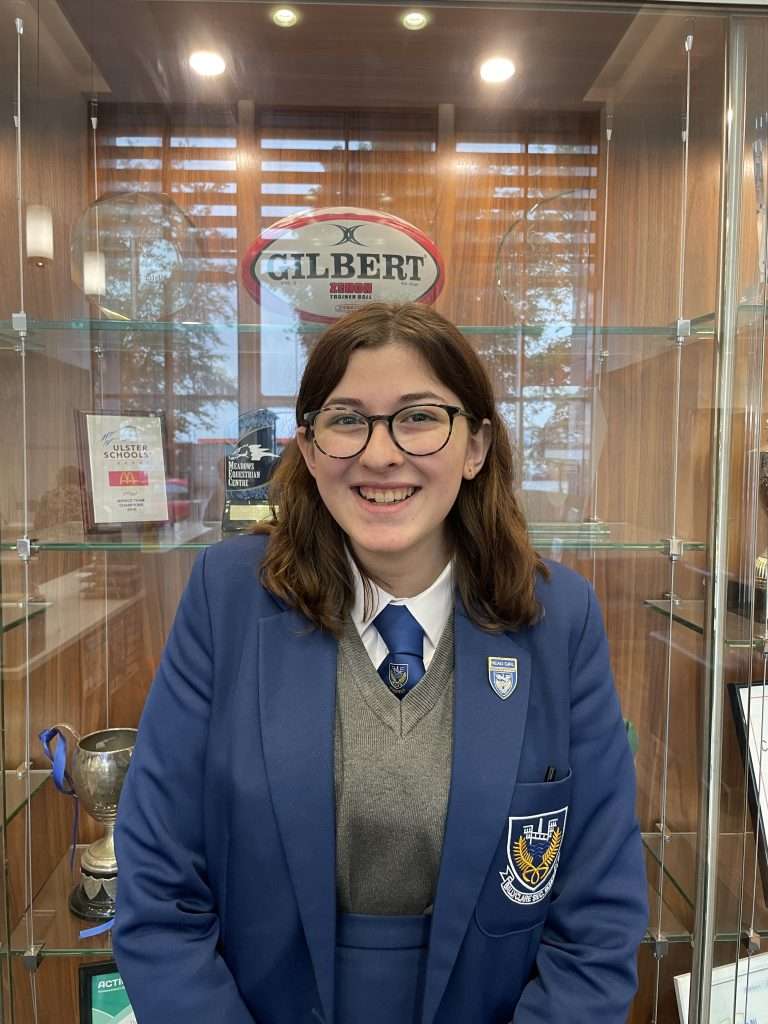 What are your roles and responsibilities?
As Head Girl, I have different roles and responsibilities which have been changed due to Covid-19. The role of Head Girl should be positive and a role model; for the younger pupils of the school to look up to and aspire to be. Also, to set a high standard of uniform and behaviour. With the Head Boy and Senior Prefect Team, we help out at and attend many events throughout the year such as open night. In the mornings, we stand at the front doors to welcome students into the building and make sure that they have and wear a mask and to also sanitise their hands to follow Covid-19 guidelines. Along with the Head Boy, we attended the annual Remembrance Service in Ballyclare and lay a wreath on behalf of our school community. Then with the addition of the Senior Prefects, we are helping to organise our annual school formal for the senior pupils of the school.
What plans do you have for the incoming year?
This year I plan to focus on my A Levels, so I can work to the best of my ability to achieve the best possible grades to secure a place at university. At university, I plan to study Mathematics; regards to the future, I'm not really sure what I plan to do. I am aware of this extra responsibility and know how hard I will have to work thoughout this year. I am thankful to Ballyclare Secondary for allowing me to 'build my own success story' throughout my time and I look forward to being able to project that to fellow pupils.