Aims and Overview of the Modern Languages Department
In the Modern Languages Department pupils are given the opportunity to develop their language skills through listening, speaking, reading and writing. This is complemented by the opportunity to develop cultural understanding, to encourage pupils to use language effectively and confidently and to raise awareness of the benefits of language learning outside the classroom.
The department aims to provide pupils with the opportunity to develop as individuals, contributors to society and contributors to the economy and environment. A wide range of teaching and learning techniques are employed to optimise language learning and enjoyment.
The department currently meet the statutory requirements at Key Stage 3 through carefully planned schemes of work. Key Stage 4 and Key Stage 5 Languages are delivered in line with the current Curriculum Entitlement Framework from DENI and the Examination Board specifications.
Enrichment
Numerous enrichment activities are organised by the department to enhance the pupils' cultural and linguistic experience.  Highlights of our school year in the Modern Languages department include:
Onatti Theatre Company
This specialist company write and stage productions aimed at school pupils, the cast are native speakers and they perform in the school every year. Pupils really enjoy this event as there is plenty of audience participation. The learners always feel really proud that they can understand the story.
The European Day of Languages
Various activities are organised to celebrate the European Day of Languages every year:
Competitions
The Cookery Club, Hardbacks Club and school canteen go European.
All rooms are labelled in French.
Some pupils work with classes from Ballyclare Primary School and teach them French and share in their celebrations for the European Day of Languages.
Immersion Day.
This day allowed GCSE French students to work on exam techniques and revision in a fun way. They had the opportunity to practise oral answers, role plays, tenses, numbers and to go over common errors made by candidates.
The day started with a French breakfast for French students in years 11-14 and they enjoyed interacting and learning from each other.  They were then divided into groups and worked on developing various skills and techniques in a fun way, like tense blast and scavenger hunt.  Students also played French 'boules' and were given 40 minutes to work their way out of a French Escape Room.
Queen's Film Theatre
Outings to the Queen's Film Theatre are organised throughout the year to view foreign-language films. These are usually related to topics that are studied in class and are followed by a question and answer session.
Staffing
There are currently 4 members of the Modern Language Department:
Mrs L. Millar (HOD)
Miss L. Collins
Ms S. O'Connor
Facilities
Pupils are taught by specialist teachers in subject-specific classrooms that are equipped with Interactive Whiteboards and data projectors. Classes are regularly brought to the ICT suite and reading material in French is available, both within the department and in the school library, to promote further, independent study of the language.
Why Study Languages?
'If you talk to a man in a language he understands, that goes to his head.
If you talk to him in his language, that goes to his heart'.  Nelson Mandela
'No Culture can live if it attempts to be exclusive'.   Ghandi
Language-learning:
improves general literacy
enhances communication skills
builds self-confidence in working with others
can lead to a 10 – 15% increase in salary
promotes understanding of other cultures
Improves cognitive skills
Furthermore, Europe is the world's largest market and France is one of Europe's largest markets. In fact, 72% of UK international trade is with non-English speaking countries but it is estimated that only one in ten British workers can speak a foreign language.
Career Opportunities
A GCSE in French may be a key asset for employment in any number of areas such as Tourism, Advertising, Journalism and Customer Services. Careers also exist in the following spheres: Interpreter, Translator, Language Teacher, Linguistics, Media, the Leisure Industry, International Organisations, Business and Administration.
Broaden Your Horizons
Ever thought of working or travelling abroad?  Or what about doing a language course in your own time?  Did you give up learning languages at Key Stage 4 and now realise you need some language skills for your CV?  Or do you need to enhance you employability skills to stand out from the other applicants?  Click on the images below to see how easy it is.
Past Pupils Success Stories
Rebecca Donaldson
BA Hons French with
Spanish,
Ulster University, Coleraine.
Read more about Rebecca's experience studying French at University.
Key Stage 3
French is compulsory for all pupils in years 8, 9 and 10 and the current timetable allocation is 3 periods of French for pupils in Key Stage 3.
Schemes of Work
Schemes of work are kept in a file in the department and they are regularly reviewed and updated if required. The content is chosen not only to ensure complete coverage of the Entitlement Framework objectives, but also to stimulate, motivate and interest pupils.
Topics covered include self, family, house, home, leisure, holidays, weather, town and directions, food and drink, school, shopping and travelling.
Assessment
Pupils are assessed using a range of strategies in order to determine the most accurate assessment of a pupil's ability.
On-going informal assessment
Progress is constantly monitored and teaching is adapted if necessary:
vocabulary tests; grammar tests; oral, written, listening and reading exercises as classwork; effective questioning and homework.
Formal assessment
Agreed common assessment and homework tasks are identified for each year group.
Summative assessment
November and June examinations.
GCSE French
http://ccea.org.uk/french/ (GCSE revised from 2017)
Overview
The GCSE course in French is a 2 year course with the emphasis on communication and comprehension.
It covers the 4 language skills of reading, writing, listening and speaking.  Candidates can be entered for examinations at either foundation or higher level (for reading, writing and listening) to maximise achievement.
The course includes topics such as culture and customs; personal details and family; local area; social and global issues; school and career; free time, social media and entertainment; travel and tourism; and local and national identity.
GCSE pupils in the past have visited Invest NI and the Queen's Film Theatre.  This will be available if the opportunity arises.  They also have time set aside with the French Assistant, who works with small groups or individuals, to give them extra support in their GCSE French studies.
For more information, see the specification.
Assessment
| MODULE | ASSESSMENT | % OF GCSE |
| --- | --- | --- |
| Unit 1 Speaking | Examination (7-12 mins). General conversation and 2 role plays conducted with teacher. | 25% |
| Unit 2 Writing | Examination (1h / 1h15). Response includes listing, short phrases, answering questions in French and English, translation from English to French and one structured and extended writing task. | 25% |
| Unit 3 Listening | Examination (35 / 45mins). Response includes selection, gap-fill and answering questions in French and English. | 25% |
| Unit 4 Reading | Examination (50mins/1h). Response includes selection, gap-fill, answering questions in French and English and translation from French to English. | 25% |
The nine grades available are A*, A, B, C*, C, D, E, F and G.
If candidates fail to attain a grade G or above, their result is reported as unclassified (U).
Progression Pathways
A good GCSE may lead to AS/A2 Level of study of French, giving access to Degree Courses in Interpreting and Translating, International Business Studies or joint courses such as Law with French, Media Studies with French or Accountancy with French.
Career Opportunities
A GCSE in French would be a key asset for employment in any number of areas such as Tourism, Advertising, Journalism and Customer Services. Careers also exist in the following spheres:  Interpreter, Translator, Language Teacher, Linguistics, Media, the Leisure Industry, International Organisations, Business and Administration.
Job prospects are excellent.  There are currently around 800 global firms with bases in Belfast, employing 7500 people.  At present there is a shortage of supply to meet the demand as Northern Ireland currently lacks linguistics and this has been reiterated by the Head of Modern Languages in the University of Ulster.
Outstanding GCSE Results
GCSE results awarded in August 2016 were above the NI average.  This average is based on all schools in Northern Ireland: grammar and non-grammar schools.
A Level
Specification/Exam Board:   CCEA
http://www.ccea.org.uk/

Criteria for Entry: Grade B or above in GCSE French.
The AS and A2 courses in French extend naturally from the skills developed and assessed at GCSE.
The courses encourage candidates to:
develop understanding of spoken and written forms of French in a variety of contexts
communicate confidently, clearly and effectively in French, using increasingly accurate, complex and varied language
A-level pupils in the past have visited the Queen's Film Theatre and attended study days at Queen's University, Belfast. These will be available again if the opportunity arises.
GCE French pupils receive 8 periods of French in each year. Added to this are two periods of self-study and a minimum of two periods with the French Assistant, who works with small groups or individuals, to give them extra support in their A-Level French studies
Summary of Subject Content
AS Level
Students will explore and develop understanding of the contemporary society, cultural background and heritage of France while building upon their linguistic knowledge and abilities. This will be achieved by listening, reading and responding to authentic material.
Assessment is in the form of two examinations covering the four skill areas of listening, speaking, reading and writing. These examinations are usually taken in May/June of Year 13.
A2 Level
Successful completion of the AS course leads to further study of the topic areas above in greater depth and developing a higher level of critical awareness. Study at A2 level includes issues of local and global citizenship and awareness. At A2 students also study French Literature.
Assessment follows a similar format to AS level
Summary of the structures of AS and A2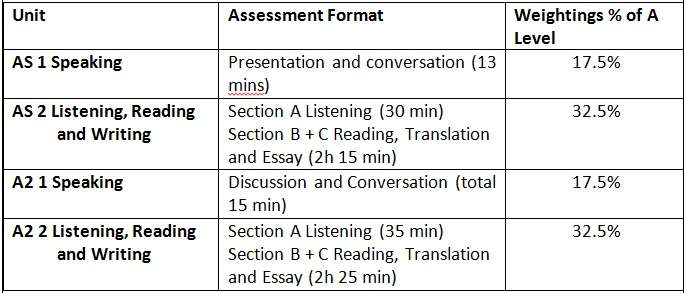 The AS and A2 level courses provide a very solid foundation for study at a higher level in a range of linguistic areas of practice.
Useful Links
www.aqa.org.uk
www.ccea.org.uk
www.linguascope.co.uk
www.linguaflash.co.uk
www.languagesonline.org.uk
http://www.laits.utexas.edu/tex/gr/
www.frenchteacher.net
http://www.languagesresources.co.uk/
http://www.french-online.de/grammar/
www.teachit.co.uk
www.tes.co.uk
www.realfrench.net
www.poplett.com
www.voki.com