Where and When
Day – Monday
Time – 12.00-12.20
Venue – Music Department
The Junior Choir is open to all year 8 and 9 pupils who enjoy singing.  You do not need to have any experience of singing in a choir, just be open to learning new songs and making lots of new friends.  There is no audition and everyone is welcome.  Junior Choir is held at lunch time so that it is accessible to all and you do not have to worry about arranging transport home after school.
Members
| | | |
| --- | --- | --- |
| Chloe Stewart | Tazmin McConnell | Anna Robinson |
| Jasmine Shields | Hannah Caldwell | Eloise McCormick |
| Elle Devlin | Amy Turbett | Olivia Glass |
| Emma Bell | Kelsey Moore | Annie-Rose Gillanders |
| Lauren Ferguson | Susan McKay | Sarah Campbell |
| Daniel Campbell | Scarlett McArthur | Louise Hutchinson |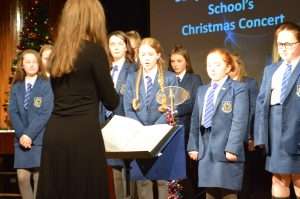 Events in 2016
The Junior Choir is taking part in a number of exciting events this year including performing with the African Children's Choir at their Christmas Concert and taking part in the Peace Proms Concert organised by the Cross Border Orchestra of Ireland.
 
Peace Proms Concert with the Cross Border Orchestra of Ireland
This event took place on Sunday the 8th February 2015 in the Odyssey Arena, Belfast.   The pupils who took part had the opportunity to perform with a live concert orchestra and sing with pupils from other schools across the province to promote peace and unity in our society.   Pupils had to work very hard to learn the vocal programme which consisted of 13 songs, varying from traditional pieces to modern pop songs with lots of actions and energy needed during the performances.  It was however well worth all the hard work and everyone really enjoyed taking part in the concert.  We hope to be part of this event again next year so if you were not involved this time you may still get an opportunity next year.  See below for some of this year's photos.
African Children's Choir Christmas Concert – 'An African Christmas'
On the 11th December members of the choir had the wonderful opportunity to perform with the African Children's Choir in their concert 'An African Christmas'. in the Waterfront Hall, Belfast.   The choir had to learn a selection of 9 Christmas themed songs to perform alongside other local schools as part of the concert.
In total 46 year 8 and year 9 pupils took part in the event and although it was a long day of rehearsals the pupils really enjoyed the experience and the final concert was absolutely spectacular. Well done to all those who took part, all the hard work and preparation over the last number of months paid off on the day.
Video Clips
Watch some video clips of the rehearsals below.
Comments from the organisers
"What a magical evening full of celebration, joy and hope – you guys were brilliant!! It was a delight to work with each and every one of your students… they are a true credit to each of your schools. They were full of energy, talent and delight. We even had a glowing review from the Lord Mayor who enjoyed the performance immensely, high praise indeed. Well done to all, it really was a concert and a night to remember, thank you!"
Photos from the event