Where and When
Day – Wednesday
Time – Junior SU- 11.45 -12.20
Senior SU -12.25-1.00
Venue – Lecture theatre
SU is open to all pupils in Years 8-14. We begin our meeting by having lunch and chatting to our friends. The rest of our meeting usually consists of a talk from a visiting speaker who teaches us how the Bible is relevant in our everyday lives.
The programme for each term is organised by the SU teachers and a very enthusiastic SU committee.
Events
Each year SU organises a special Shine event where SU members are encouraged to invite their friends to some fun events.
Shine poster designed by Committee.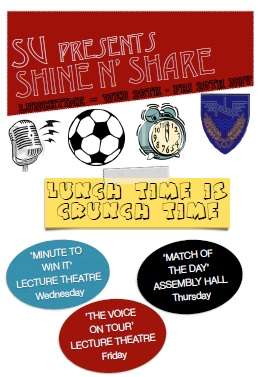 Some photographs from the Shine events coming soon!!
SU Weekend
Our SU weekend took place in Annalong.
This year for our SU weekend we went to Mullerton House in Annalong. Our Speaker for the weekend was Jonny Farrell who spoke on the theme "My Story, Your Story, God's Story." We had a great weekend, playing lots of ice breaker games, messy games and photo challenges in Newcastle. The teachers even wore fancy dress costumes around the streets of Newcastle! All in all we had a great weekend and even though we all came home really tired we wanted to stay for a few more days! Lots of friendships were made and existing ones were made stronger. One of the things I took away from the weekend was that "God is good all the time, and all the time God is good." Lesley Anna Tosh Year14
Photos
Photographs from the 2014 SU weekend.
Photographs from the 2012-13 SU weekend.