All of us at Ballyclare Secondary School appreciate how difficult it is to social distance from our friends, for some of us, our family members and even key adults who support us socially and emotionally. Therefore, this space is for each and every one of you to check for updates and to tap into resources that are all about your well-being, your mental health and how you can manage yourself through this pandemic. On this page you will find some of our existing pastoral resources, similar to the things that would be taught / delivered during class assembly time. You will also find some top tips and strategies on how to manage your own well-being and mental health.
---
Food
At this time of change and uncertainty many of our regular routines have been turned upside down. This can include what we are eating. Where possible we should continue to make healthy food choices as we know the right type of fuel keeps our body and mind healthy.  Read this information to help you try and stay on track with sensible food choices.
For more information about eating well download this presentation (including a link to a Chest Heart and Stroke webinar)  Food, eating well.
Mindful March
Click on the calendar to download a pdf of the calendar to view and/or print.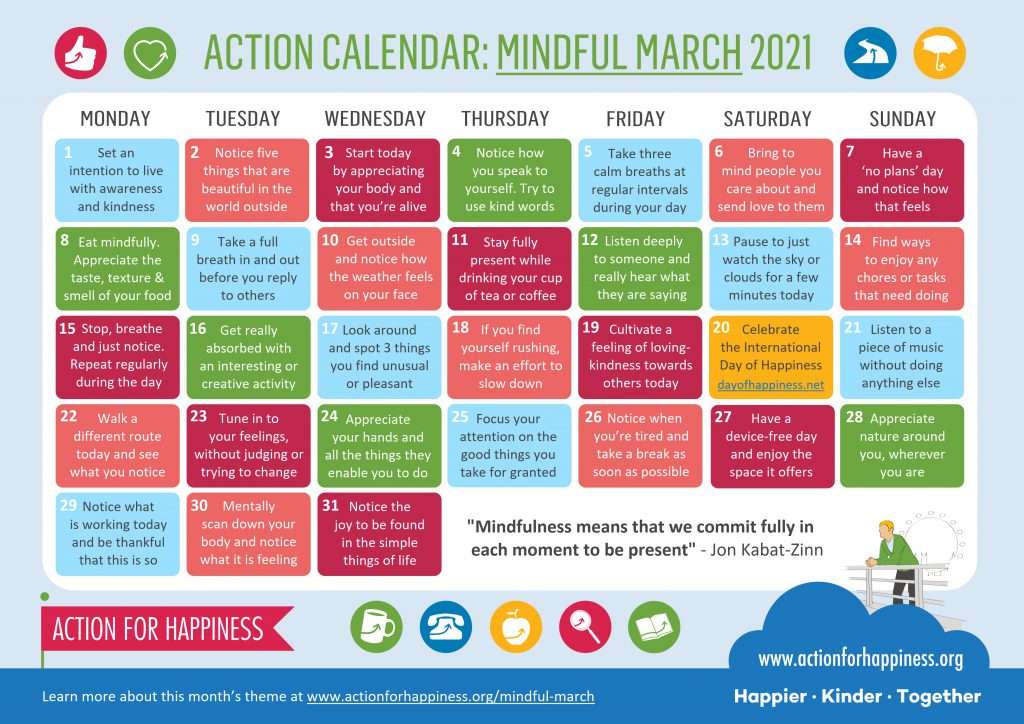 ---
School Counselling – Self-Referral Process
If you are feeling anxious and you at a personal point in your life when you need someone to talk to who isn't a family member, an adult you know or a friend then don't worry – there is always someone there to help you. If you want to make a self-referral to our counselling service follow the following link:
Alternatively, you can talk to any member of staff if you are unsure if this is the right thing for you. You can contact your Class Teacher, your Head of Year, one of our Tutors or any Senior member of staff.
---
---