Aims and Overview of the Home Economics Department
Home Economics has an important contribution to make to the whole school curriculum. Pupils learn about diet and health in a practical context- through preparation of food and the planning of meals. It also encourages pupils to think about their relationship with food in a positive way, to challenge the way they choose food, and to inspire a love for food and a willingness to experiment and be creative with food.
Home Economics also allows pupils to explore and debate topics around the key concepts of home and family life and independent living. As a result, pupils become more informed and responsible to make choices about their health, their family relationships and their resources now and in the future.
The aims of our department our:-
To help pupils understand the role of the home and family.
To develop pupils' understanding of their physical, emotional and intellectual needs and the needs of others and how these change throughout their life according to circumstances and resources available.
To develop thinking and decision making skills of pupils on matters relating to home and family
To develop a range of skills including: creative, investigative, communication and management.
To provide opportunities to work independently, in pairs or as part of a group, through the experience of practical activities.
Staffing
Mrs Duncan (Head of Home Economics)
Mrs Beggs
Miss Clarke
Mrs Cunningham
Mrs Edwards
Mrs McCrea
Mrs Pedlow
Technical Staff
Mrs A Heslip
Facilities
The Home Economics Department contains three newly equipped multipurpose practical rooms for 20 pupils.
Each room has an interactive promethean board with a computer link to the C2K Network and projector with the facility to demonstrate cooking techniques via video camera.
Each multi purpose practical room has a link computer for 20 pupils.
A spacious, attractive classroom is used for the delivery of Child Development lessons and Health and Social Care.
There is also an HE office and a Technician's store.
All ingredients, raw materials and equipment are provided for pupils during practical sessions.
Equipment Needed
The only equipment pupils are required to bring for practical lessons is a named container in order to take home their cookery.
Pens, pencils and a ruler are required for theory lessons.
Key Stage 3
Pupils study two periods of Home Economics each week. Pupils have regular opportunities to take part in practical activities during which they develop essential practical skills which will be useful to them now and in later life.
At Key Stage 3 the subject is based on the following key themes:
Healthy Eating
Through the exploration of healthy eating, pupils develop knowledge, understanding and practical skills required for healthy living. They learn how to plan, prepare, serve, handle and store food safely.
Home and Family Life
This dimension provides opportunities for young people to understand the importance of the family as a caring unit.
Independent Living
Pupils learn how to manage resources effectively as well as the importance of being discerning consumers.
Year 8 Topics covered:
Getting started in Home Economics
Hooked on Health
Breakfast- A Healthy Start to the Day
Family Focus
Use of Equipment
Lets Learn about Fruit and Vegetables
Year 9 Topics covered:
Consumerism
Food Safety
Online Shopping
Getting Older
I am what I eat
Year 10 Topics covered:
Nutrition and Teens
Fill Up On Carbs- Fuel Your Body
Pumping Iron/Get Milk, have Calcium
Love Fruit and Vegetables
Hydration
Ethical Shopping
A World of Food
Assessment at Key Stage 3
Three formal Common Assessment Tasks are completed throughout the academic year. These are used to assess pupil's knowledge and skills in the subject and take a variety of formats including traditional exams in November and June and practical assessment.
Other assessments are completed throughout the year for homework.
GCSE Food and Nutrition
Specification/Exam Board: CCEA
This syllabus enables pupils to develop practical skills and covers the following areas
Food Provenance
Food processing and production
Food and Nutrition for Good Health
Energy and nutrients
Nutritional and dietary need
Priority Health Issues
Being an effective consumer when shopping for food.
Factors affecting food choice
Food safety
During the 2 year course food production will be a significant part of the course.

Examples of GCSE Practicals
GCSE Child Development
Specification/Exam Board: CCEA
This syllabus seeks to encourage the understanding of the needs of young children and covers the following areas:
Parenthood and Pregnancy
Diet and Lifestyle during pregnancy
Birth and the new-born baby
Physical, Intellectual, Communication, Social and Emotional Development,
Weaning and dietary needs of the child
Child health and Education
As part of the course pupils will have the opportunity during Year 11 to be involved in a local day nursery with pre-school children. Pupils will also have the opportunity to take home the Virtual Reality Baby for a weekend.

BTEC Child and Social Care Learner of the Year 2020
Occupational Studies (Food Preparation and Cooking)
Specification/Exam Board: CCEA
This modular study course provides an appropriate alternative to traditional GCSE subject studies. Students will learn practical skills for 2 years.
Year 11 will focus on a Contemporary Cuisine Unit.
Year 12 will focus on a Patisserie and Baking Unit.
The following table shows course content.
Assessment
Assessment will take place throughout the course and students will either attain Level 1 (equivalent to GCSE D-G Grade) or Level 2 (equivalent to GCSE A*-C) at the end of 2 years.
Equipment
All ingredients, raw materials and equipment are provided for pupils during practical sessions.
Pupils are required to purchase a chef jacket and skull cap to wear during practical sessions.
Industrial Visits
The school has established strong links with the Templeton Hotel. A mentoring partnership has been formed with the chef s at the hotel where Year 11 students undertake a work experience programme completing a busy shift in the hotel kitchen. Other industrial visits which support the learning of this course are also attended throughout the 2 years of study these include: Mauds Ice Cream, Jenkins Butchers and Deli, Newtownabbey Recycling Site, Ewings Fish Mongers Belfast.
Guest Speakers
The pupils also have the experience of guest speakers and demonstrations. These include a demonstration on first aid from the school nurse, a cookery demonstration from the LMC and a talk from the local Environmental Health officer.
Level 3 BTEC National Award in Children's Care, Learning and Development
Specification/Exam Board: CCEA
CCEA's GCE Home Economics focuses on the health and well-being of people in their everyday lives.
Criteria for Entry: Grade C of above in GCSE Child Development is essential. ICT and English are also desirable.
Scheme of Work
The Edexcel Level 3 BTEC National Award in Children's Care, Learning and Development consists of five core units that provide for a combined total of 360 guided learning hours (GLH) for the completed qualification. There are no examinations and teachers mark coursework which is awarded either Pass, Merit or Distinction status. For the Level 3 BTEC National Award to contribute to A*- C students must achieve Merit and above.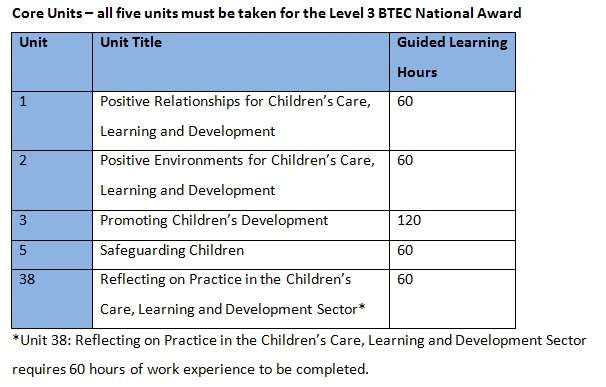 Career Opportunities
Nursery assistant, nursery nurse, nursery manager, pre-school early years co-ordinator, classroom assistant, health visitor assistant, child minder, early years assistant.
Useful web links

http://ccea.org.ukhttp://aqa.org.ukhttp://www.rewardinglearning.org.uk/microsites/home_economics/links/index.asphttp://www.bbc.co.uk/healthhttp://www.bhf.org.uk/http://www.citizensadvice.org.uk/http://www.consumerfocus.org.uk/http://www.consumerline.org/http://www.dairycouncil.co.uk/http://www.foodafactoflife.org.uk/http://www.lmcni.com/