Aims and Overview of the Mathematics Department
The mathematics department fully supports the philosophy, beliefs, values and aims of the school. Mathematics is a core subject that all pupils must take at ks3 and ks4. It is our intention to provide opportunities for pupils to learn through a variety of different teaching techniques and by having high expectations of all pupils. We are keen to promote a positive ethos in the department, with our aim, especially at ks3, to provide pupils with an enjoyable experience in mathematics. Good relationships between pupils and staff, attractive wall displays and a range of different classroom activities are all ways we seek to do this.
Numeracy is a cross curricular skill, essential for lifelong learning, and we believe that the mathematics department has a key role to play in developing numeracy. (A separate numeracy policy is available for consultation). Specific number work days and mental maths tasks are used throughout the ks3 course to help improve competency in numeracy. A number of GCSE topics are specific to numeracy allowing the teacher the chance to develop numeracy at ks4. Numeracy Ninja is one form of activity we use to enhance numeracy skills.
Thinking skills and Personal capabilities are also incorporated into the teaching in the mathematics department through the use of appropriate mental maths tasks used at the teacher's discretion.
Staffing
Mr I Thompson
Mrs L Cowan
Mrs S Jones
Mr D McKean
Miss J Smyth
Miss Spence
Mrs Thompson
Mrs C Wasson
Mrs L Woods
Equipment Needed
To do a job well you need the right tools. The pupils mathematics toolbox should contain:
Pencil
Pen
Ruler
Rubber
Scientific calculator
Protractor
Compass
Colouring pencils
Sharpener
Concentration
Key Stage 3
Key stage 3 Assessment Overview
Year 8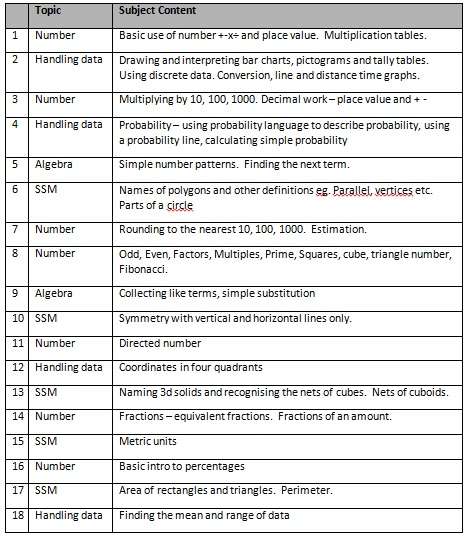 Year 9
Year 10

KS4 – MATHEMATICS
All pupils sit the GCSE in mathematics. (details below)
There is the option of Further Mathematics as a separate subject at GCSE. (details below)
Some pupils are also offered the chance to do OCN Entry Level 1, 2 and 3. On completion of this course, they will then complete OCN Level 1 Essential Skills in Application of Number if appropriate. Students will also continue to complete Foundation GCSE.
GCSE Mathematics
The specification has two tiers: Foundation and Higher. Each tier offers students a choice of units suited to a range of abilities, allowing them to demonstrate achievement. The assessment model enables students to monitor their progress and offers opportunities to improve their results.
Specification
Our GCSE Mathematics is unitised, so it's possible to take part of the assessment before the end of the course.
The specification has eight units, four at Foundation Tier and four at Higher Tier:
Unit M1: Foundation Tier
Unit M5: Foundation Tier Completion Test
Unit M2: Foundation Tier
Unit M6: Foundation Tier Completion Test
Unit M3: Higher Tier
Unit M7: Higher Tier Completion Test
Unit M4: Higher Tier
Unit M8: Higher Tier Completion Test.
Students choose one option from the two available at either Foundation or Higher Tier. They must take two units, one of which must be a completion test.
Further Mathematics (GCSE)
Specification/Exam Board: CCEA
Overview
Our GCSE Further Mathematics specification encourages students to extend their mathematical skills, knowledge and understanding. It gives them opportunities to select and apply mathematical techniques and methods to everyday situations. It challenges and stretches students to broaden their mathematical knowledge to a more advanced level.
This qualification targets students who require knowledge of mathematics beyond GCSE Mathematics. It broadens the experience of students who are capable of working beyond the limits of GCSE Mathematics (Higher Tier) and those who want to progress to AS/A level courses.
Each unit is assessed by external written examination in the form of a single question-and-answer booklet.
Specification
The specification has four units. Students complete Unit 1 in year 11, and unit 2 and 3 in year 12.
Unit 1: Pure Mathematics
Unit 2: Mechanics
Unit 3: Statistics
www.rewardinglearning.org.uk/microsites/mathematics
MATHEMATICS – AS and A2
Specification/Exam Board: CCEA
Criteria for Entry for AS Mathematics: Grade B or above in GCSE Mathematics
The AS Mathematics is studied in Year 13 and the A2 Mathematics in Year 14.
These are demanding courses in the amount of effort and time required but the department is well resourced in terms of professional expertise, textbooks and electronic material. The course includes modules in pure mathematics, mechanics and statistics. Students must complete one pure unit and one applied unit (mechanics and statistics) to gain an AS-level and one pure unit and one applied unit (mechanics and statistics) to gain an A-level (see weightings below).
Many other subjects require knowledge of Mathematics in order to explain ideas and theories that would otherwise be difficult to comprehend. At University many subjects, such as Biology, Business Studies, Geography and Accounts, require the study of Mathematical Methods Modules, which can prove difficult if Mathematics has not been taken to at least AS Level.
Summary of subject content
| | | |
| --- | --- | --- |
| AS Pure | Written exam – 1h 45 min | 24% |
| AS Applied | Written exam – 1h 15 min | 16% |
| A2 Pure | Written exam – 2h 30 min | 36% |
| A2 Applied | Written exam – 1h 30 min | 24% |
AS Level A2 Level
Unit 1 Pure Mathematics
Unit 2 Applied – Mechanics and Statistics
Useful web links